If you're looking for a solution to accommodate your ever-growing pile of books, can I suggest a simple weekend DIY project for you?
Painting bookshelves is surprisingly easy and affordable. In general, there are three types of bookshelf reruns: 1) painting or reworking a thrift store in an ultra-stylish color for a versatile home filled with very personal items; 2) painting a cheap, pre-made flat pack bookcase because you are on a budget but still want a personal flair; 3) Do everything in the second category for steroids because for a fraction of the price you prefer a custom, built-in look.
This tutorial covers the second category. If you want to bring style, cohesion, and unity to your space, this is a good place to start!
I'm in the process of adding bookcases to my house and I want bookcases to match my kitchen cabinets. It's a multi-week project, but even my built-in custom shelves need to start with the steps in this tutorial. So without further ado, here is what you need to know.
What you will need:
Self-assembled bookshelf of your choice. I like Ikea's Billy Bookcases, but any pre-made bookcase will do.
Zinnser BIN primer. This material adheres to any surface, eliminating the need to sand or remove existing surfaces. You can use it for both thrift finds and factory-made shelves.
Paint in the color you choose. You can go for a high gloss finish for a modern look, but be careful to show any imperfections. Personally, I love Benjamin Moore Aura for its non-toxic, beautiful finish. Just know that it's expensive, and probably more expensive than your flat pack bookcases.
Paint tray. I just use aluminum foil as a disposable liner. I also use foil as a tray cover between layers during the drying time to keep the paint from sticking.
Tack cloth. A sticky cloth that you run over your parts before painting to ensure a clean surface.
Paint roller. A mini paint roller with high-density foam makes for the smoothest finish and is the perfect size for this painting scale.
Drop cloth. You can also use old sheets of paper, plastic, or butcher paper.
Notes before beginning
Work in a ventilated area. Do not work in temperatures below 50 degrees Fahrenheit and during periods of high humidity. If you do this, it will take forever for the paint to dry.
When the shelves are the way you assemble them it will be much easier to paint them before assembling. So paint first, then assemble.
The right primer is everything.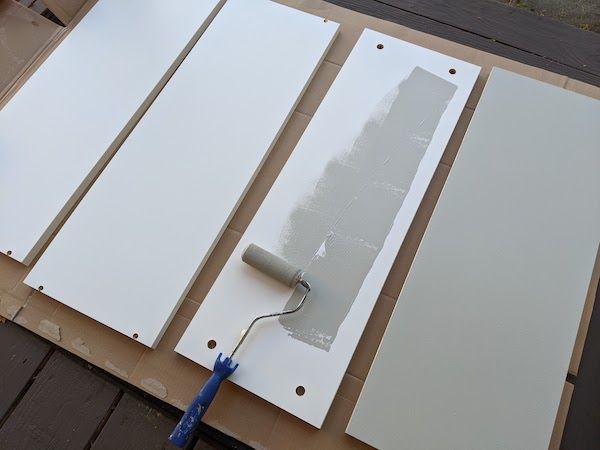 Directions
Lay out the kerchief and all of your parts.
Wipe the upward-facing surfaces with a cloth.
Load the roller into the paint tub with about a pint of primer and start covering your parts. Apply even pressure, being careful not to leave any streaks.
Once the primer is dry (10-15 minutes), turn the piece over and repeat step 3.
Once the second side has dried, roll the edge and let it dry.
After the parts are properly primed, prep your paint pan with the paint and gloss of your choice with a new liner and foam roller.
Repeat steps 3 through 5 with paint.
Depending on the color used and the color you have chosen, you may need to repeat steps 3 through 5 for a second coat.
Once everything is evenly coated, dry and beautiful, assemble your bookcase as directed. You're done!