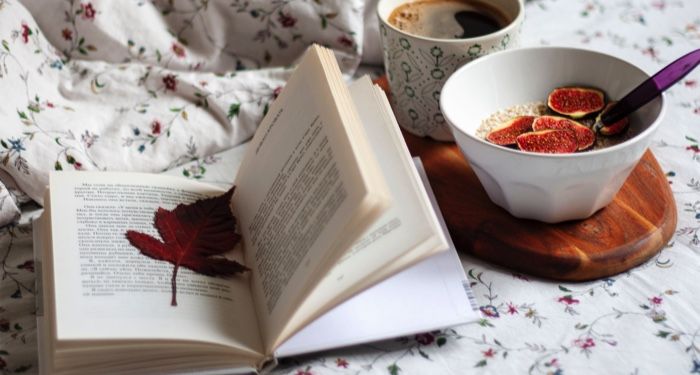 As long as I have had a reading life, it has largely been defined by two facts: that I have always had a reading level well above my age group, and that I am a quick reader. When I was younger, I didn't like borrowing novels from the library that much because I preferred to read at my own pace and on my own schedule with no due date over me. But when I started studying English literature, where my quick reader skills were certainly being tested, I realized how much more reading for pleasure I could get by reading more from the library.
This was also around the time I got to Goodreads, where I was discovering more and more books that I would otherwise never have come across. Coupled with my habit of compulsive reading in response to my existential neuroses, I eventually became a person who checked out an unrealistic amount of books from the library and forced myself to read them ASAP just to feel something . The coronavirus pandemic put an end to that, for both bad and good.
To say that the past year has forced everyone everywhere to re-evaluate their priorities would be a huge understatement, and I am well aware of the potential to freely browse a library or bookstore. I'm incredibly grateful that my library offered a "contactless lending service" to pick up reserved books and the like. But if multiple quarantines and bans have shown me something, then your emotional baggage also surrounds you when you are forced to spend time alone surrounded by nothing but your own belongings. For the first time in over five years, I was forced to grapple with the reasons I read so much so quickly and relearn how to actually read for the simple act of pleasure.
ba_newsletter_id: 141037
Today in Books Newsletter
Register for Today in books receive daily news and miscellaneous items from the world of books.
Thanks for registering! Keep an eye on your inbox.
With your registration you agree to our terms of use
I'm sure any voracious reader has other reasons to buy a book than getting it from their library (hello – the library is free), but I realized that it wasn't always about getting books out from the library to spend the money on a new hardcover: It was about the fact that I use books and knowledge more as defense mechanisms, that I define myself too much by how many books I have read. A friend once convinced me to download the Co-Star Astrology app, and after one of the first notices that said, "Nobody cares how many books you've read," I deleted it. Who needs this type of personal attack when opening their iPad? Certainly not me. In truth, since I've studied books at an academic level and pursued a career where maybe one day I might write one of my own, who cares how many books I've read? I did. I cared, and I cared way too much.
Photo by Olga Tutunaru on Unsplash
Taking a nice long look at the coldhearted reality of my reading shelf at Goodreads, I realized that too many books had been added to be read from the library just to appear informed rather than the fact that I was really myself interested in the topic. At times when I felt disconnected from other areas of my life, I purposely dove too hard into my passion for books and pop culture to feel anything again. Of course, in a perfect world, it's still nice to read something informative so that we have an interesting topic to bring up in person or on social media. But at a time of social isolation when joy or pleasure are rare – let alone the fact that the library is more or less closed – is reading just to feel informed or worthy really worth the effort? It wasn't for me.
As I started buying more new books online to add to my physical collection when personal browsing was no longer available, something strange and unusual happened: I was actually reading … slower? Without the unspoken pressure of having to read a library book within the allotted loan period, I took the time to enjoy what I was reading as there was no rush. Even before the pandemic, whenever I bought a highly anticipated title, I always read as soon as possible because I knew I wanted to own it because there was always more – more trips to the library, more hot titles, More information soon, more books. But without being able to just go to a library or bookstore whenever I felt like it, for the first time in a long time I began to appreciate the joy and pleasure of actually spending my time reading a book. The world was slowing down so it was time I did too. Especially since there have been much more violent reading breaks in the past year, relearning how to appreciate and enjoy a book in the moment has been an immensely valuable skill.
Every time the library calls to let me know that I have a book ready to be picked up (a recent email indicated that I have currently reached the limit for queues – small steps, dear reader), this familiar meets me Flare of fear in the stomach: Shit, now I have to finish what I'm reading as soon as possible because seven other people after me want this library book, which means that I can't renew it and if I don't read this book, life like us I know it will naturally come to a standstill. But guess what? Life as we knew it came to a standstill several times. So what if, God forbid, I can't finish a book anytime soon, or don't have time to read a library inventory when it's ready for me? I think I just have to remind myself that if I don't read a certain book at a certain pace at a certain time, the sky will not fall. As we have inevitably learned, there are worse things in the world.