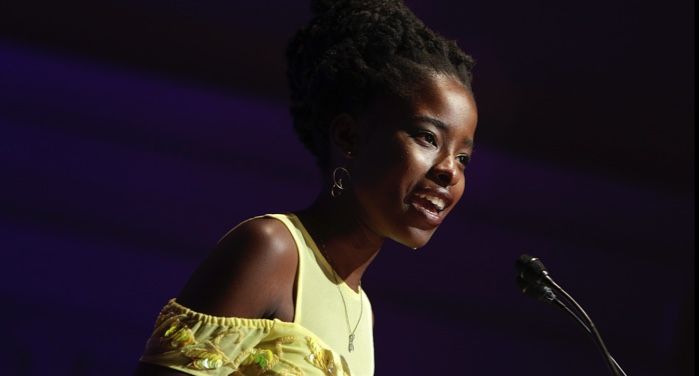 This post contains affiliate links. Book Riot can earn a commission when you buy through these links.
Amanda Gorman read her poem The Hill We Climb in front of a sea of ​​masked Americans during Joe Biden's President's opening ceremony. She stood in the U.S. Capitol on January 20, 2021 to recite a poem about hope and change and repeat some of the messages Biden used during his campaign. For example, when Biden said, "We have to end this civil war," Gorman repeated, "We put our arms down so we can stretch out our arms one by one."
You can listen to the full poem below:
Gorman is a 22-year-old poet from Los Angeles, making it the youngest inaugural poet in history. Amanda Gorman has been a well-known poet for many years. In 2012 she joined the non-profit WriteGirl, a charity that supports teenage girls through creative writing. While she was still attending the WriteGirl workshops, she was voted youth poet in Los Angeles in 2014. Just three years later, at the age of 19, she became the first teenage poet in American history. At the time, she was a freshman at Harvard University, graduating with honors in Sociology in 2020.
Check your shelf newsletter
Sign in to receive Check your shelf, the librarian's one-stop shop for news, book lists, and more.
Thanks for registering! Keep an eye on your inbox.
With your registration you agree to our terms of use
In 2017, Amanda Gorman was also the inaugural poet of the 22nd US Poet Laureate Ceremony, where Tracy K. Smith was introduced. During the ceremony, she read her poem In This Place (an American text). It is a poem that condemns the racist march that took place in Charlottesville, Virginia. The Hill We Climb was also written in response to current events; She wrote most of it, watching the pro-Trump extremists storm the Capitol on Jan. 6.
Despite her struggle with a speech impairment, Gorman has become an exemplary poet, public speaker, and activist. She has many projects in the works, including two children's books and a poetry collection. Her first picture book will appear in September with illustrations by Loren Long. The book is called Change Sings and is about music and the idea that anything is possible when people join their voices. She wrote it to "remind young readers that they have the power to make the world". The book will be released on September 21, 2021 and is currently available for pre-order.
Her first collection of poems is titled The Hill We Climb and includes the title poem read at the inauguration. It is currently available for pre-order and is expected to be released on September 21, 2021. Both Change Sings and The Hill We Climb are high on the Amazon bestseller list.